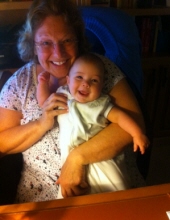 Obituary for Jurate M. "J.J." Budrys
Jurate M. "J.J." Budrys, nee Jasaitis. June 21, 2018. Age 66. Of Scottsdale, Az., formerly of Chicago's Marquette Park neighborhood. Devoted wife of Anthony M. Budrys. Loving sister of Ausra(Terry) Petry. Beloved aunt of Terry Jr. and Olivija Petry. Beloved sister in law of Birute(Arvydas) Babusis and family and Veronika(Sam) Mostacchio. Jurate is also survived by many other relatives and a host of many dear friends. Funeral services Friday 9:30 A.M. at the Petkus Lemont Funeral Home, 12401 S. Archer Ave.,(at Derby Rd.), Lemont, to Blessed Jurgis Matulaitis Mission, Lemont, for Mass of Christian Burial at 10:00 A.M. Interment St. Casimir Lithuanian Cemetery. Visitation Thursday 3:00 to 8:00 P.M.

Gimė 1951 m. spalio 7 d., Chicago, Il..
Mirė 2018 m. birželio 21 d. , Sun City, Az.
Gyveno Scottsdale, Az., anksčiau Chicago, Il., Marquette Park apilinkeji.
Nuiludi liko vyras Antanas M. Budrys, sesuo Ausra Petry su vyru Terry ir vaikai Terry Jr. ir Olivija; svainė Birutė Babušienė su vyru Arvydu su šeima; svainė Veronika Mostacchio su vyru Sam; ir kiti gimines draugai ir pažistami.
Pašarvota ketvirtadieni birželio 28 d. 3:00 iki 8:00 val. vakare Petkus Lemont laidojimo namuose, 12401 S. Archer Ave.(arti Derby Rd.), Lemont. Laidotuves ivyks penktadieni birželio 29 d. 9:30 val. ryto Petkus Lemont, laidojimo namuose į Pal. Jurgio Matulaičio Misijoje, 14911 127th St., Lemont., kurioje 10:00 val. ryto bus aukojamos Šv. Mišios. Po Šv. Mišiu velione laidotuves bus Šv. Kazimiero Lietuvių kapinese.
Kviečiame visus draugus, artimuosius ir pažystamus dalyvauti laidotuvese.
Previous Events
Visitation
Petkus Lemont Funeral Home
12401 South Archer Avenue
Lemont, IL 60439
Service
Petkus Lemont Funeral Home
12401 South Archer Avenue
Lemont, IL 60439
Service
Blessed Jurgis Matulaitis Mission
14911 127th Street
Lemont, Illinois 60439
Cemetery Details
Location
St. Casimir LIthuanian Cemetery
4401 West 111th Street
Chicago, Illinois 60655