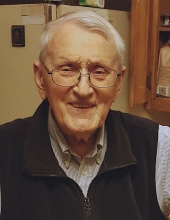 Obituary for Petras Aleksa
Sculptor Petras Aleksa. February 27, 2018. Devoted husband of Laima, nee Radzyte. Loving father of Lucius and his wife Kathy, Vainis and his wife Laima, Gailė Leipus and her husband Edvardas, and Jonas and his wife Diane. Cherished grandfather of Paulius, Nerijus, Marius, Mikutis, Vilija, Abby, Nida, and Gilius. Dearest brother of Vytautas in Lithuania, and brother in law of Aldona and Algis Vaičiūnai and their children, Vaidotas and Žibutė, Darius and Vita, Ramona and family, and Andrius.
Peter was born in Lithuania September 12, 1924. He lived in the United States since 1949, most recently in Orland Park, IL. He graduated with a degree in Design from IIT and studied at the Art Institute of Chicago. He created the altar in the Jesuit Chapel at the Lithuanian Youth Center in Chicago, was Director of the Čiurlionis Art Gallery, and designed and published books for the Lithuanian Library Press.
Visitation will be on Saturday March 3rd at 9:00 a.m. and Mass at 10:30 a.m. at the Blessed Jurgis Matulaitis Mission, 14911 127th St., Lemont, IL 60439. We sincerely invite all friends and loved ones to the visitation and funeral mass. Burial will be private.



Dailininkas, skulptorius A†A PETRAS ALEKSA mirė 2018 m. vasario 27 d. Gimė 1924 m. rugsėjo 12 d. Ėjučiuose, netoli Kražių, Lietuvoje. Amerikoje gyveno nuo 1949 m., pastaruoju metu – Orland Park, IL. Nuliūdę liko: žmona Laima (Radzytė), sūnus Lucius su žmona Kathy, sūnus Vainis su žmona Laima, dukra Gailė (Leipienė) su vyru Edvardu, sūnus Jonas su žmona Diane, anūkai Paulius, Nerijus, Marius, Mikutis, Vilija, Abby, Nida, Gilius, taip pat brolis Vytautas Lietuvoje bei svainiai Aldona ir Algis Vaičiūnai, jų vaikai Vaidotas su Žibute, Darius su Vita, Ramonos šeima ir Andrius Kanadoje. A. a. Petras baigė mokslus Illinois Institute of Technology (IIT), vėliau studijavo Art Institute. Jis suprojektavo Čikagos Jėzuitų koplyčios altorių, buvo Jaunimo centro Čiurlionio galerijos direktorius, Amerikos lietuvių bibliotekos leidyklos (Lithuanian Library Press) vedėjas, mylintis vyras, tėvas ir senelis.





Atsisveikinimas su velioniu įvyks kovo 3 d., šeštadienį, nuo 9 val. ryto Palaimintojo Jurgio Matulaičio misijoje (14911 127th St., Lemont, IL 60439), kurioje 10:30 val. r. bus aukojamos šv. Mišios už velionio sielą. Nuoširdžiai kviečiame visus artimuosius, draugus ir pažįstamus dalyvauti atsisveikinime. Laidotuvės privačios. Liūdinti šeima.
Previous Events
Visitation
Blessed Jurgis Matulaitis Mission
14911 127th Street
Lemont, Illinois 60439
Service
Blessed Jurgis Matulaitis Mission
14911 127th Street
Lemont, Illinois 60439
Cemetery Details
Location
Private
Private
Private, Private Private